How regional banks maintain their ability to act despite COVID-19
We accompany regional banks throughout the COVID-19 crisis with comprehensive and pragmatic support. Please feel free to contact us with a view to: 
ad-hoc measures to protect the ability to act within all business units of an institution
solutions for retail and corporate sales, for stabilizing and further developing the organization and for ensuring financial security with regard to bank management and treasury
a long-term action program that takes the post-crisis period into consideration while focusing on the opportunities of the future
We will be delighted to provide you with a checklist of specific approaches to match the operational fields of action. Please feel free to contact our colleagues in charge or your personal contact at zeb directly by e-mail or telephone. 
COVID-19 takes savings banks and regional banks in particular into unknown territory: with their strong local presence and focus on the regional economy, they are particularly affected by the restrictions in everyday life. It is therefore all the more important that they make every effort to maintain their ability to act in the current situation. The changes brought about by the COVID-19 pandemic affect all business units.

These are the key areas from our point of view:
Retail and corporate sales
Organization and employees
Management and treasury

The figure below shows what it takes to initiate the right measures in the short, medium and long term for the various areas of an institution: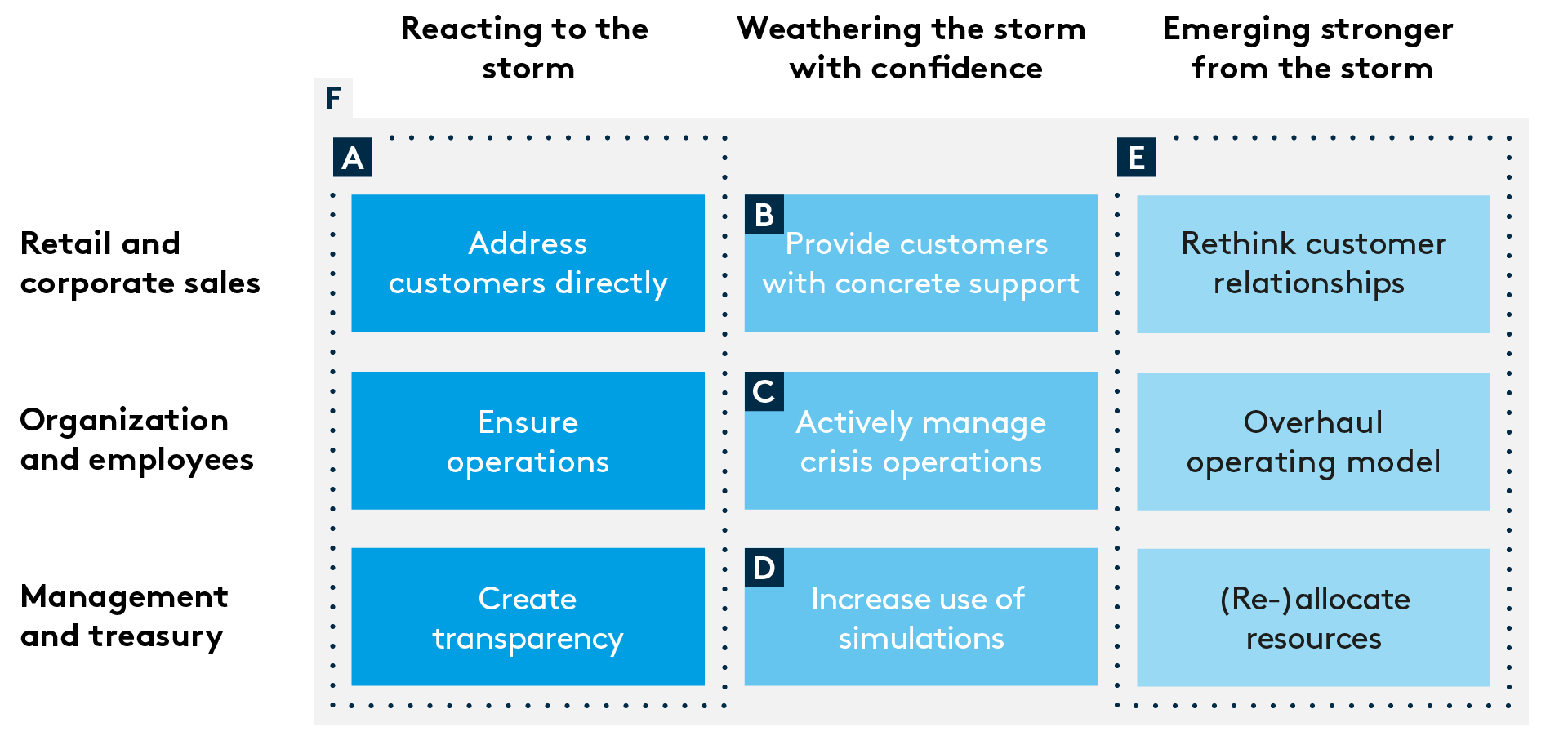 zeb offers you a comprehensive and pragmatic toolset of targeted solutions: 
The first step, which we have already taken with many clients, is to "react to the storm". This is where operational crisis management (A) is required to protect the ability to act.
Three things are decisive in order to deal with the current situation: Targeted measures in corporate and retail sales (B), Effective virtual cooperation and team leadership in times of crisis (C), Simulations of income, costs, capital and liquidity to predict P&L for 2020 and beyond (C).
But it is not just about reacting to the crisis: regional banks have the opportunity to emerge stronger from the storm than they were before. zeb provides orientation when it comes to making permanent use of the current crisis measures, rethinking customer relationships and optimizing one's own operating model in the long term—this applies to all three business units (E).