core Cooperative Banks: Digital Transformation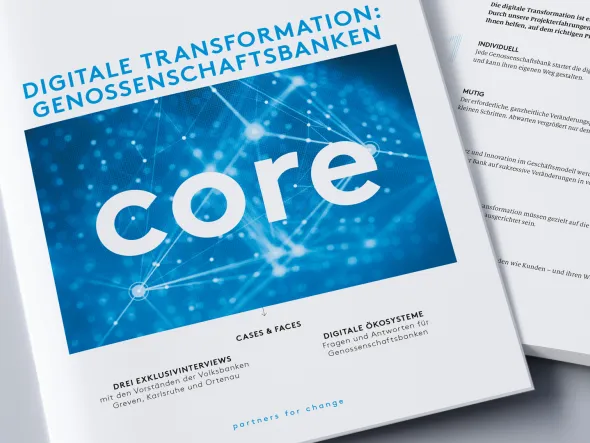 How cooperative banks are mastering the digital transformation  
Our formula for success: (efficiency + innovation) * Culture = Future  
The Corona crisis shows - with an explosiveness that none of us would have wished for - how significant the digital transformation is. It has changed the consciousness of everyone, employees and customers alike. Many of those who were previously unfamiliar with the subject are now happy and grateful that they can, for example, take advantage of a media consultation or work from their home office.
In three exclusive interviews, the management boards of the Volksbanks in Greven, Karlsruhe and Ortenau explain how they started - partly with the help of zeb - with the digital transformation in their institutions and what experiences they have gained in the process. The interview with Dietmar Dertwinkel, member of the Managing Board of Volksbank Greven, has also been made available as a podcast. 
Furthermore, our colleagues explain our zeb success formula (efficiency + innovation) * Culture = Future.
Cooperative banks can lay the foundation for sustainable profitability (efficiency) by consistently using digital possibilities. Necessary investments for innovations and thus for the further development of the existing business model are thus better possible. If the organisation, managers and employees are then actively brought into a mode of change and accompanied (culture), the digital transformation can succeed.
Order now (Publication is only available in German)
Order form
Thank you very much for your interest. Please fill out the form to get access to the complete document by e-mail. Please note that this publication is only available in German.
Further publications
zeb is a thought leader in the financial services sector. Below you will find a selection of our current publications.