In hybrid working the office still plays an important cultural role
Dr. Christina Block, Manager at zeb: "Each bank can be like Google."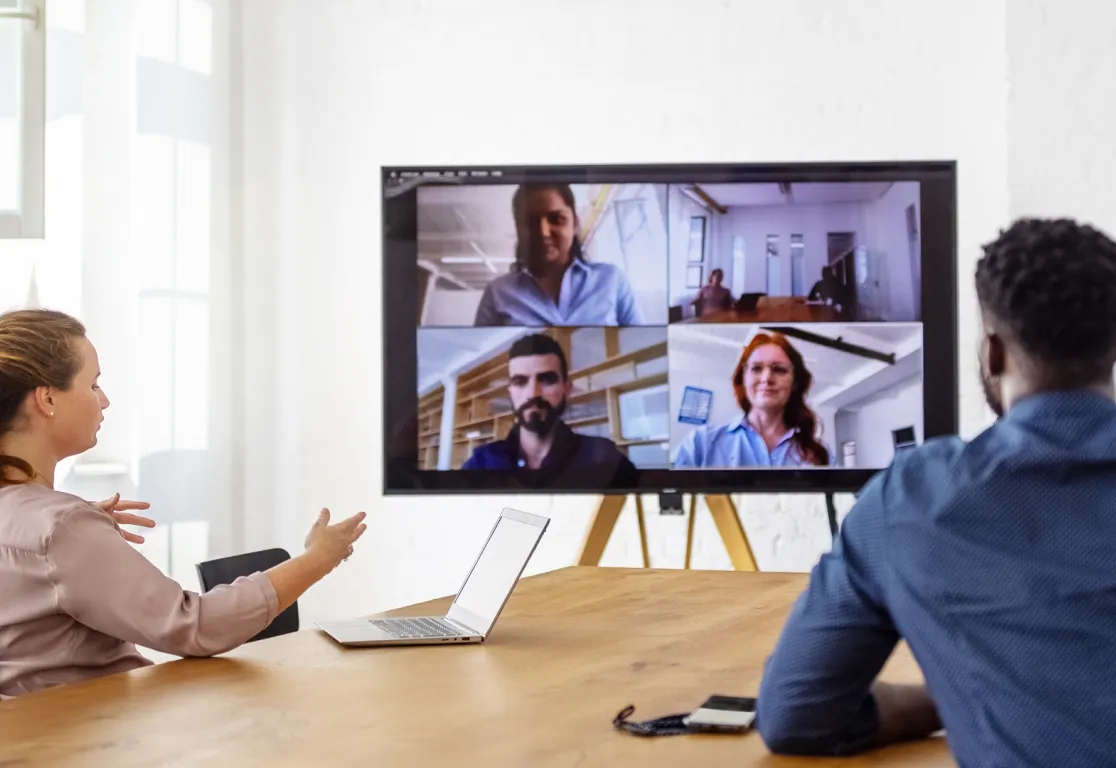 HSBC is planning to reduce its office space by 40 percent. Bayern LB intends to retain workspace for only seven out of ten employees – these are just two recent announcements that indicate where things are currently headed: in the future, only part of a bank's work will be office-based; another part will be mobile – usually, performed by employees in their homes. "This has hard cost advantages," explains zeb Manager Dr. Christina Block, at the same time voicing concerns: "Only few companies, however, really consider what it means to build a hybrid organization. More often than not, a clear target vision is still missing."
Many companies understand "hybrid" as "office plus remote", focusing only on technical infrastructure and office space. For Block, however, it's much more about developing concepts as to where and how the best results can be achieved. This affects many areas – from the type of leadership and (new) forms of collaboration to corporate culture. "Especially the cultural consequences are often overlooked," Block points out.
Instilling a sense of identification
According to Christina Block, every insurance company and bank can create a "Google feeling" for their employees, in other words, a sense of community, a high level of identification and willingness to perform.
To this end, it is necessary to see the office also as a "cultural meeting place". It is where the team gets together, but where there are also areas for individual work, where there is a higher level of transparency and responsibility.
This is how Christina Block describes a comprehensive transformation process in which large parts of the financial services industry find themselves. In her view, hybrid working has the effect of a magnifying glass, revealing many aspects of the new world of work. "Often, the issue is also taken as a starting point to tackle larger transformations."
The fear of losing control
On the topic of leadership, Block says: "I have observed a fear of losing control, a reluctance to hand over responsibility, but also to accept it." Managers are more required to create transparency under hybrid working conditions: who works on what, who needs help. And they are required to "not shy away from addressing conflicts that used to be resolved over a chat in the office kitchenette."
According to findings available so far, hybrid working makes differences in performance more obvious and causes them to become increasingly pronounced over time. In this context, it is important to recognize in good time when tendencies to "overheat" are starting to build. "The evolution is clear to see: away from controlling and toward situational support and enablement," says Block. "There is a great need to make managers fit for the new challenges."
Chief officer without an office
The zeb Manager is certain, however, that the transformation will include everyone: if a company gets it right, then even chief officers will no longer need their own offices, although there will still have to be rooms for confidential discussions. Likewise, in terms of direct
customer contact, the branch will be different in ten years' time. "As a first step, branches should be regarded as places where bank staff can meet with customers in a pleasant atmosphere – and not at a counter, for example. The second step is the vision that we are already in the metaverse and have customer conversations through avatars. Perhaps initially in a hybrid form in which I, as a customer, can meet an avatar in a branch, i.e. without any physical encounter. That is still a long way off – but I am certain: it will come."
Hybrid working also creates completely new opportunities on the labor market, because a regional bank can suddenly make use of the superregional labor market. "The challenge here, however, is to ensure an onboarding process under hybrid conditions that also creates a sense of identification and commitment," Block points out. "After all, employees have to be integrated not only in terms of IT and content, but also on a personal level."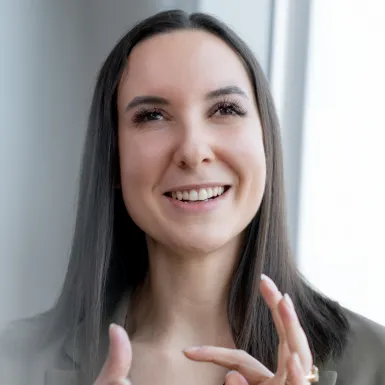 "Every bank, every insurance company can be like Google."
Dr. Christina Block, Manager, zeb