Accounting for insurance contracts according to IFRS 17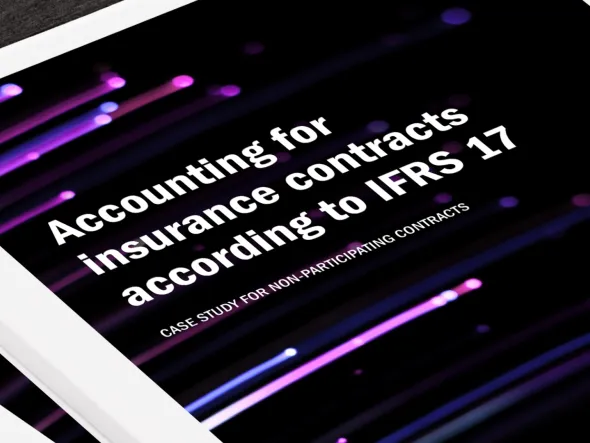 Accounting for insurance contracts according to IFRS 17
On January 1, 2021, the currently applicable standard for accounting for insurance contracts, IFRS 4, will be replaced by the new IFRS 17 standard. Due to the complexity of the subject, the development of the standard was divided into two phases by the standard setter. The currently applicable version of IFRS 4 was introduced as an interim standard and already became effective in 2005. IFRS 4 allows insurance companies largely to continue to use their local accounting practice for IFRS purposes. IFRS 17 will replace this interim solution in order to ensure international comparability of financial statements.
In May 2017, after a development stage of several years, IASB published the final standard.1 IFRS 17 contains a consistent measurement model which must be applied to all types of insurance contracts and is based on the concept of the fulfillment value. This so-called fulfillment value, i.e. the value of the resources required to fulfill the obligation, is determined prospectively by means of a measurement of the insurance contracts which is current on the given reporting date. Due to a three-year implementation phase allowed bythe standard setter, initial application is set for balance sheet dates after January 1, 2021.
Aside from IFRS 17, also IFRS 9 will confront the insurance sector with a number of additional new regulations. IFRS 9 will lay down new detailed rules for the accounting for financial instruments. For instance, the valuation of financial instruments at amortized costs will in future only be possible under certain conditions whose permissibility must be proven by means of comprehensive calculations. Due to the divergence in initial application dates for IFRS 17 and IFRS 9, most insurance companies using IFRS are given the option to apply IFRS 9 at a later date in order to avoid a so-called accounting mismatch. According to this, insurance companies might be allowed to apply the already effective IFRS 9 simultaneously with the initial application of IFRS 17.
Order form
Thank you for your interest. Please fill out the form to receive a link to the complete document.
zeb is a thought leader in the field of financial services. Please find a selection of our recent publications below.