The zeb.Chatbot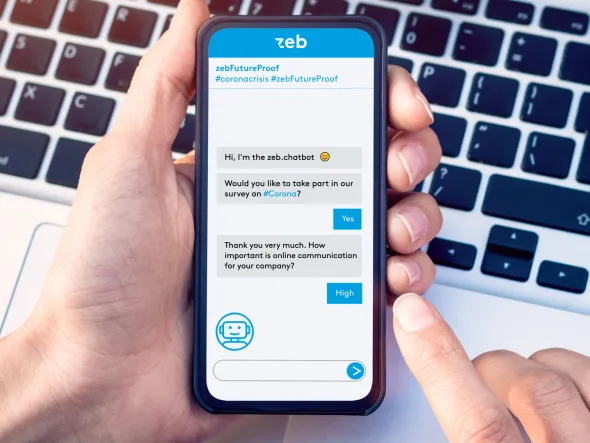 Simple, fast and individual: our zeb.Chatbot
In less than 48 hours, the zeb.Chatbot could also welcome and serve your customers 24/7.
Our zeb.chatbot is a text-based dialogue system that allows the exchange of short, written and/or spoken messages. You, as the customer, define the content on which the zeb.chatbot is to provide information and also the areas in which you want to offer your customers contact options and assistance. 
In times of #Corona and #Social Distancing, our chatbot is the ideal solution for banks and insurance companies to maintain and expand the proximity and contact to their customers. Because: Your customers expect digital offers from you, when it is no longer possible to go to the branch or to a personal advisor. At the same time, you can relieve your employees of the flood of enquiries, reduce your customers' waiting times and expand your opening hours to 24 hours a day, seven days a week in one go. 
Our experience has shown that most customers have very similar questions and needs and that most of them are about topics that can be standardised and therefore can be answered easily by the zeb.chatbot. These include, for example, questions about current branch opening hours, problems with online banking, questions about cash availability, securities order options, how to contact the advisor, etc. 
Our zeb.chatbot answers your customers' questions in an interactive chat around the clock and without any waiting time. And all this also applies to the time after Corona.
Because our zeb.chatbot can do even more. For example, you can also use it for surveys with your customers. On our website you can try out how it works. Our zeb.chatbot is available to customers on your website and in your social media channels within less than 48 hours. It is already pre-trained and can be quickly enriched with topics that are relevant for you. In addition, we adapt its design according to your standards. 
Our experts are always available to answer your questions.