UN Global Compact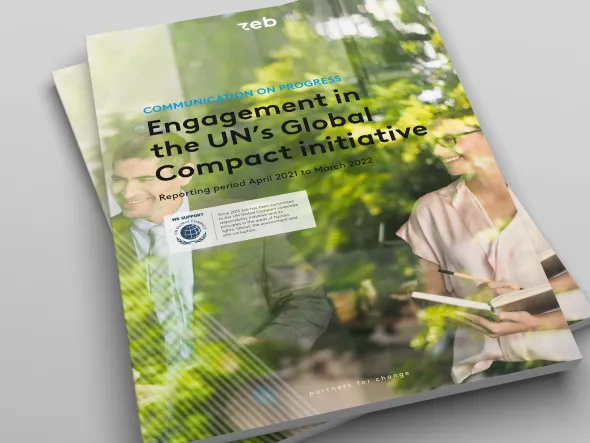 Our engagement in the UN´s Global Compact Initiative
Communication on progress 2021-2022
The United Nations Global Compact, the world's largest and most important network for corporate social responsibility, is gaining even more weight and significance during the COVID-19 crisis. 
Since April 2015, our company zeb has been part of this network; every year we prepare a communication on progress and document the goals we have set ourselves and the measures we have taken in the areas of human rights, labor, environment and anti-corruption.
While we are continuously working to keep our own business operations as resource-conserving as possible, we see our consultancy services to the European financial services industry as our most effective sustainability lever. Financial institutions have a key role to play when it comes to the green transformation of the global economy. They act as intermediaries, lenders, controllers, insurers and decision-makers. And we at zeb are their partners.
People increasingly ask us what contribution we make, what values we hold and what we have achieved. We give our answers in what is now our seventh communication on progress.