Digital Pulse Check 4.0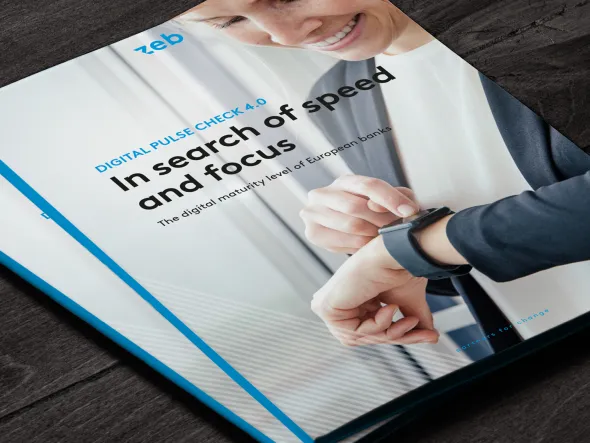 Study on the status of digital transformation of European banks
The zeb.digital pulse check 4.0 is one of the most comprehensive studies on the digital transformation of the financial sector in Europe. In 2020, the digital study, now in its fourth year, assessed the digital maturity of European banks using an interactive chatbot tool – from digital strategy and business models to digital processes, data & IT and management & organization.
Digital transformation of European banks – "in full swing" or "stopped"? 
Are European banks making progress? In addition to the status and progress achieved in digitalization as well as the specific influence of COVID-19, the zeb.digital pulse check once again presents opportunities and potential available to financial institutions if they systematically pursue their digital transformation. The study shows that digitalization remains a challenging issue for European banks. The strategy is good, but implementation is lagging behind expectations.
Other key findings of the digital study: at bank management level, there is no lack of digital strategies as well as understanding that transformation needs a broad foundation and that numerous facets such as organization, processes and bank IT must work together in order to be successful. However, many banks are not yet involving their employees strongly enough in their digital transformation, which is a profound change not only technologically but also culturally.
Our interactive study booklet gives you the opportunity to delve deeper into the exciting study results on the level of digital transformation at European banks. Give it a go and register below for your copy. Further insights into the digital study are available in our user-friendly virtual dashboard on the Digital Services Hub.