CFO Study 2022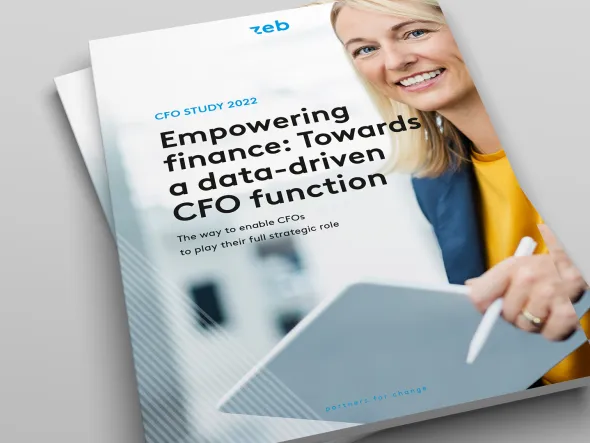 Empowering finance: Towards a data-driven CFO function
The way to enable CFOs to play their full strategic role
The results of our latest survey of CFOs at leading banks in Europe show that they rightly want to be active drivers of overall strategy. Many of them already play this role while only a handful of participants say they are excluded from decisions about the bank's strategic direction. Yet much of our respondents' time is still taken up with day-to-day tasks such as planning, forecasting and internal and external reporting.
Inevitably, this devotion to the CFO's traditional duties means less time is spent on strategic activities which can add value for the bank. In Section 1 we explore the survey findings. Most participants are clear about the main reason why they are constantly diverted from strategic activities by mundane tasks. At present, many banks have finance functions which lack robust technological foundations and sufficient people with data skills and know-how. As a result, CFOs and their teams are still stuck in a world where too many repetitive tasks require manual processing, even though new technologies such as AI and machine learning can dramatically accelerate and simplify these operations.

In Section 2 we draw on the survey results and industry best practice to identify the key elements for building zeb's finance data value chain, which connects all parts of an effective data-driven finance function. These elements range from nurturing data literacy across the finance function to implementing advanced analytics. Many of our survey participants have barely begun this journey. 
In Section 3 we show how zeb's Maturity Assessment Model can help CFOs and their teams to get started by identifying potential obstacles, learning from industry best practice and relevant use cases, and prioritizing measures that fit the bank's business and operating model.
We hope you find this zeb.CFO Study 2022 an informative and enjoyable read!