Experience Report Wojcieh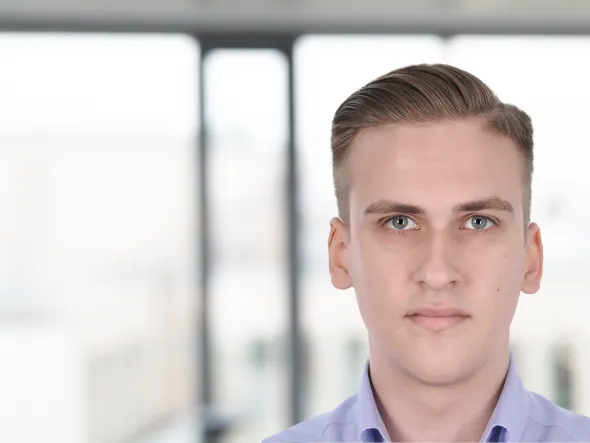 Experience report: Wojcieh, Business Analyst, Warsaw 
Question 1 - What has brought you to zeb?
I owe my knowledge of zeb to a close friend of mine who did two consecutive internships here during the summer holiday periods. I learned about his experience at zeb on an ongoing basis, both the good and the not so good—the latter seeming surprisingly scarce to me at the time. Before he went on to continue his studies abroad, he suggested that I give some thought of applying for this position on a gap year I planned to take, after finishing my bachelor's degree. As I'd already heard about the range of fascinating projects and a great, close-knit team atmosphere at the office, I promptly decided to try my chances at the recruitment process. Fast forward three weeks, and there I was, signing my contract at the conference room after a well-organized, very friendly and relaxed series of interviews in the preceding weeks. Since then, I have had an opportunity to compare my friend's descriptions with reality, and I must admit, that so far everything has been checking out!

Question 2 - What makes zeb special?
I wouldn't specify one reason why zeb is special. Instead, I believe that the overall picture is so unique because of many coexisting factors. From the working atmosphere that makes you come back to the office with a smile and new energy every day, through the constant support of more experienced colleagues, fantastic learning opportunities, stimulating projects... I could go on like that for much longer, but I've got two more questions to answer. :)
Question 3 - What are your responsibilities at zeb?
I am currently involved in a comprehensive project regarding cash loan performance at one of the Polish banks. Despite the juniority, interns at zeb take an active part in project work. As part of my daily work, I prepare data analyses, co-create presentations or documents and take part in all meetings with the client. If your goal is to contribute to the project and not only watch from the sideline, zeb is the place to be!
Question 4 - How did you experience your first weeks at zeb? What were your first impressions?
From day one, you could feel your colleagues' kindness in the air at the office. Thanks to the flat hierarchy, I was never afraid to ask any questions and felt great support from everyone around me. As early as the first day, I was able to take part in a client onboarding process, so a steep learning curve is guaranteed. And it only gets better!