Experience Report Mateusz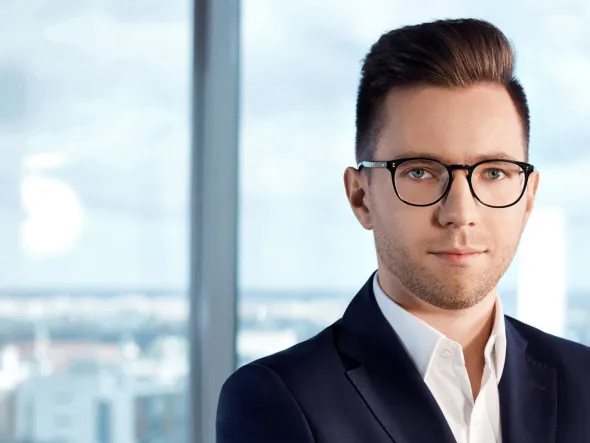 Experience report: Mateusz, Business Analyst, Warsaw 
Question 1 - What has brought you to zeb?
I first got to know zeb during the second year of my bachelor studies, while attending a case study organized by the Company's Warsaw office. I was very impressed by broad knowledge and open-mindedness demonstrated by zeb consultants during the case, when we created a digital transformation strategy in a mid-sized European bank. Even though I wasn't sure back then if I would like to pursue my career in management consulting, zeb made a brilliant first impression.
A couple of years later, being a student of CEMS Master in International Management program, my desire to become a consultant was much clearer. I considered zeb, one of the CEMS MIM corporate partners, to be a great first step in the industry for me, as I had already gathered some professional experience in the financial services sector while working in BIG4 transaction advisory and was keen to develop a deeper understanding of banking. After sending my application I was quickly contacted by Warsaw's office and even though I was on an international exchange in Lisbon, the whole process was smoothly conducted remotely. During interviews, I not only solved challenging case studies but also had an opportunity for insightful discussions about the future of the banking industry. This only ensured me that zeb is the right place for me.
 
Question 2 - What makes zeb special?
First, the relatively small size of the Warsaw office encourages a thriving team spirit, flat hierarchy in day-to-day interactions and a relaxed atmosphere. No matter how intense the project, you can always count on a friendly chat over coffee or a lunch together in our kitchen corner.
Second, significant ownership on a project since the early days in the Company. It's not like interns never leave the office and just crunch large Excel data files, but rather they are encouraged to interact directly with clients, attend meetings and make meaningful contribution. 
Third, the fact that zeb specializes strictly in the advisory to financial services sector allows its consultants to deeply understand challenges the sector is facing at the moment and, through their expertise, create an impact that truly matters.
Question 3 - What are your responsibilities at zeb?
Currently, I am working alongside a Senior Manager from the Warsaw office on a process digitalization project for a major polish bank. I actively participate in daily meetings with the client team, and my tasks vary from supporting discussions and brainstorming solutions, through preparing presentations, conducting market research as well as other analyses, to even leading a separate stream of the project and conducting workshops with client's employees. While still being an intern, I am considered a fully valuable member of the consulting team both by the client and internally at zeb, and I am trusted with a significant level of responsibility without any babysitting. Of course, more experienced colleagues at zeb are always there to support me with their guidance. Even though sometimes the learning curve is very steep, it is extremely rewarding.
Question 4 - How did you experience your first weeks at zeb? What were your first impressions?
The onboarding was very well organized. Apart from handing me the necessary equipment, our office manager made sure that I get to know everything about our office and culture. I was also assigned a Career Development Counsellor (CDC) – one of the experienced managers – who was my primary contact person and offered me valuable insights about the company as well as answered all of my questions on what to expect during my first engagements, or how to approach the first tasks I was given.