Experience Report Adam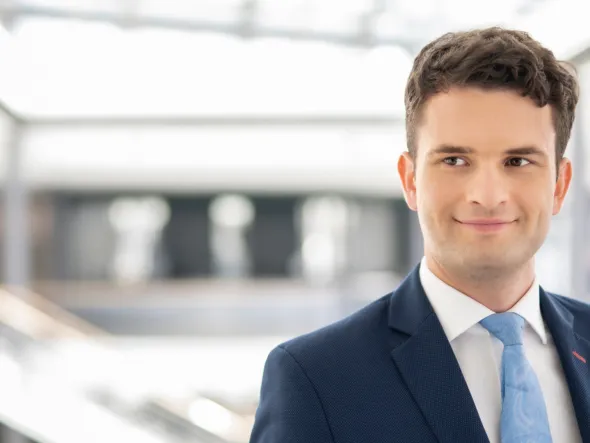 Experience report: Adam, Senior Consultant, Warsaw 
Question 1 - What has brought you to zeb?
When I was searching for a dream internship after the graduation I came across zeb internship offer at Warsaw office. At that time I was not familiar with the company, however zeb being a member of prestigious Paga foundation worked as a proof that it is a top-notch player in finance and consulting area. Once I investigated company profile more in details, I have realized that zeb is a perfect fit for my background – BA in Finance and Accounting combined with MSc Strategic Management. I have submitted my application and just in a few days I was invited for a round of interviews. During that I encountered knowledgeable and professional, but also very friendly prospective colleagues. Once I received an offer I was excited to start my new adventure.

Question 2 - What makes zeb special?
From Warsaw office perspective, I think that what is really distinctive is an entrepreneurial spirit of our office combined with well-established corporate culture of the firm overall. As a result I work in an environment where on one side company provides very professional and structured approach and on the other one, we do not lose creativity, agility and work dynamic. What is also distinctive about zeb is the fact that relatively early you are allocated with separate work stream for which you are fully responsible. But calm down - zeb follows also an error culture – everyone accepts that in an unknown environment you may not follow the best approach. What matters is ability to derive proper conclusions and utilize them in further assignments. Last, but not least, we all know each other quite well, and I do not find office integration parties as a corporate obligation, but as a pure leisure time when I can have a good time with people I like.
Question 3 - What are your responsibilities at zeb?
What I really enjoy about zeb is that you actually do not have fixed responsibilities for the whole time. Mostly, it depends on your particular project, whether you are assigned on project management, service design, integration, strategy development, etc. Different projects require completely different responsibilities and activities. Because of that, this job is really enjoyable and interesting, but also demanding and challenging. Apart from project assignments I am responsible for supporting multiple acquisition activities, topic development of my Practice Group "Payments" and recruitment activities. 
Question 4 - How did you experience your first weeks at zeb? What were your first impressions?
I was positively surprised to find out that, although all colleagues demonstrated great financial knowledge and professionalism, they were communicating in a very friendly and informal manner. Only after several days of introductory activities I was assigned on a large-scale project at client's premises. I felt excited, because this setup demonstrated that zeb places a great trust in me and my skills – I felt fully motivated to prove to my colleagues that I will perform my tasks in 100%. During the course of demanding work I felt a lot of satisfaction while my deliverables became tangible. Also, I was positively surprised that even during stressful situations no one played blame game and for the whole time I felt that we are always acting as a one team.