1st wave: functioning ad hoc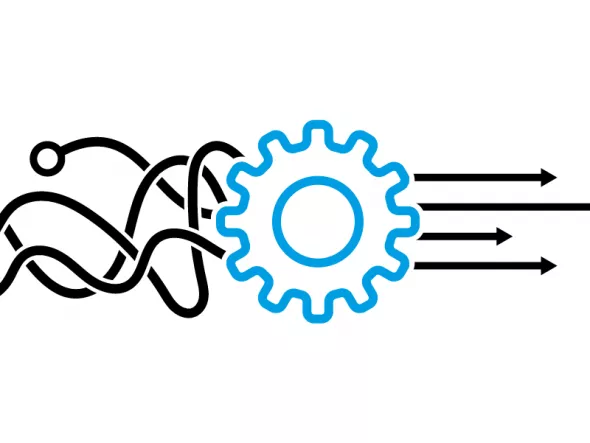 The first wave is about responding to the crisis on an ad hoc basis and creating conditions for the organization's continued functioning. In particular, this involves the duty of care towards employees who, due to the current situation, are working from home.
Arrange a protocol with the works/staff council
The works and staff councils have rights of participation in issues such as working from home, using IT systems, the organization of working hours or orderly conduct, for example hygiene. But even if there are already existing agreements on these points, these rules are often not designed for an extreme crisis situation.
In the short time you now have to take and implement measures, you will therefore not be able to negotiate a new set of agreements with the works/staff council. In view of the acute need for action, it makes sense to quickly and pragmatically agree a protocol with the works or staff council (SC). Employers and employees have complementary goals. As an employer, you want to be able to act as quickly as possible while respecting the participation rights of the SC. Staff representatives want to protect employees from financial and HR-related disadvantages. A protocol agreed with the works or staff council, which is limited in time or subject matter, does justice to both sides. It rules out disadvantages for employees and allows the employer to take measures in response to the crisis.
Deal pragmatically with legal framework conditions
There is a whole range of legal requirements that normally affect employment relationships. As an employer, for example, you must also carry out a risk analysis for employees working from home and check the glare caused by sunlight at their desk at home. This example quickly makes it clear that not all legal requirements can be met in the given time frame. Without calling for a breach of the law, take courage and go for pragmatic solutions! 
Employers have an obligation to assess the health and safety risks to their employees and to derive rules of conduct based on this assessment. The measures described in this article for dealing with the coronavirus pandemic serve to protect the health and safety of your employees and customers. As such, they should take precedence over following administrative regulations to the letter. 
Give your teams as much security as possible
People are uncertain about the daily occurrences caused by corona spreading. Therefore give your team as much security as possible. An agreement with the works or staff council is also a good basis for the legal protection of individual persons. If not already agreed, agree to bear the costs of using private work equipment. In this case, it is advisable to either grant a lump sum or to allow reimbursement of costs against proof. 
Identify and inform your employees about a home office instruction
Identify the employees and organizational units that absolutely must work on the premises of the bank and inform them of your assessment. Inform all other employees that they should work from home—and as of when this rule applies.
Prepare the technical infrastructure
Test the technology to support teamwork with inexperienced employees in advance. Have errors and problems that arise in the beginning recorded in writing so that technical improvements in teamwork and simple instructions for practical use can be implemented later. As an employer, make sure that the teams receive the necessary virtual and technical support, for example access to a technical hotline or online coaches. In this way, a rapid transition to the virtual world is possible.
First contact your IT department to clarify whether there are established tools in your institution or supplied by the datacenter for the functions listed below. The activation of already existing tools is often less complicated and less risky. Ultimately, you will have to weigh up the speed of deployment and the risks.
Designate a coordinator for each group
Colleagues will encounter all kinds of unforeseeable obstacles in daily remote work and virtual cooperation. Each group of 10 to 15 people needs a coordinator with technical expertise and experience whose sole task is to eliminate difficulties in cooperation and communication. This will be a full-time task in the beginning. It is important to clearly communicate the responsibility here to everyone. Leaders should answer every phone call from the coordinator.
Allow private devices and infrastructure in workspaces with limited risk
Private devices help to bridge the first bottlenecks until laptops are delivered and VPN access is set up. The letter of comfort referred to above protects employees from legal and compliance risks and lowers the obstacles to active participation. The risks relating to data protection and information security are generally limited when processing data that is not related to individuals or to specific transactions or accounts.
Talk to your IT department to see if access to the company infrastructure from private devices can be set up. Technically, there are secure ways to do this via so-called virtual desktops or software solutions such as Terminal Server and Citrix. Some institutions have been using such solutions successfully and securely for a long time. If your company still uses hardware-based tokens ("RSA tokens") for two-factor authentication, consider switching to so-called certificates or soft tokens, which are distributed via smartphone apps, or to access codes via SMS. These can be scaled to large user groups more quickly and cheaply.
Ensure secure data exchange with private devices
Data exchange with private devices must be restricted to non-critical data (no reference to individuals or customers, no account or contract reference)—but even this needs to be secured. As a general rule, any exchange should be limited to simple data formats such as PDF, XLSX and DOCX (without macros). Secure data rooms, such as Idgard or Netfiles,, are the best way to transfer such data. Exchanging data via e-mail is more cost-effective, but also more error-prone. Your employees must encrypt any files as a ZIP file—AES-256 must be selected as the encryption method and a sufficiently complex password defined (>=10 characters, upper/lower case letters, numbers, special characters). The sender must then communicate the password to the recipient separately—for example via Messenger or telephone. Under no circumstances may he or she send it by e-mail as well.  
Promote transparency about pending and completed tasks in the group
Online tools such as MeisterTask, Monday or Trello allow groups to easily organize different tasks: describe the task, assign responsibilities and track the status (open, in progress, done)—a group usually does not need more functions in the beginning. This transparency is certainly unfamiliar to many employees, but it is essential for effective remote collaboration. It's not about control, but about giving the team an idea of who is doing what. These tools are very well suited for regular group meetings via video conferencing to discuss progress and pending tasks. When using them, however, employees must be careful not to store any personal or business-related data in these tools.
Enable video telephony and conferences
Visual contact plays a very important role in interpersonal communication—especially in discussions on complex issues and critical situations. Internet-based conference services allow video conferences on almost any device. The services of providers such as Zoom, GoToMeeting or Cisco WebEx can be booked at short notice and usually have price models graded according to team size with monthly cancellation rights. Ideally, every employee can initiate video meetings, but this can lead to higher costs. In addition, these services also cover audio conferences and allow screen sharing. This means that even smaller groups of two or three employees can complete a task together.
Provide sufficient virtual rooms / dial-in numbers for conference calls
If the possibilities for video telephony are limited, conference calls are necessary. Each group of 10-15 employees should have at least one virtual conference room or dial-in number that can be used for scheduled meetings of the entire group, but also ad hoc. Bookings can be done, for example, by making appointment entries with a naming convention in a team calendar. All major telephony companies offer such services—even without advance notice. 
Important note: In a conference call, all participants should dial in independently, even if they are calling from the same location. This is the only way to ensure equal opportunity of participating in the discussion.
Provide current contact data transparently
Are the contact details of all employees up-to-date? Do you have all telephone numbers, both landline and mobile, and e-mail addresses? If not, you need to collect this information and provide appropriate directories. Clarify with your employees whether they are willing to share their private contact details in case of an emergency.
Help managers and employees to set up the initial work structure
When working from home, all employees need a structured daily routine as well as a clear distribution of tasks and roles—just like in the office. Create initial structures per department or team with clearly scheduled points for coordination and alignment. You can also synchronize these to the overall company level. Here's a selection of proven methods:
Daily start-the-day calls—so-called dailies—to get past the following questions: How are we doing? What was on yesterday? What's on today? What is blocking us or where do we need help? 
Start-into-the-weekend call on Friday (after) noon: How was the week? What did we achieve? What's on next week? What can we do better next week? 
Regular exchange of information between managers on the current situation, including corresponding transfer

In addition, leave room for an informal exchange of information. If an employee has a cup of coffee with a colleague every morning, this exchange is an integral part of the working day and should also be possible at home, for example via video call.